Studycat Review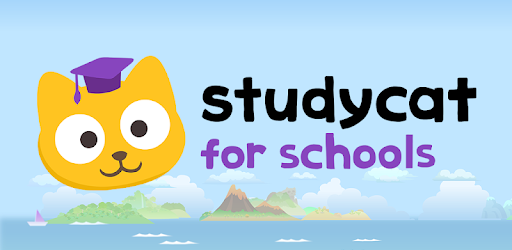 We all know that kids learn best through play, and a fun way for kids to learn languages is with games. Studycat offers a game-based language learning program for kids aged 3-8yrs to help them learn a language in a fun and effective way. With Studycat, kids can learn English, French, Spanish, German, or Mandarin Chinese at home or in the classroom. Check out our Studycat review below.
Studycat Apps for Families
With so many benefits of being bilingual, more and more parents are choosing to teach their kids a second language. Language apps have become a popular option, but choosing one that is suitable for kids isn't always easy.
These fun language apps from Studycat offer a fun way for kids to learn languages at home and are simple enough for kids to follow independently.
The Fun Series are game based language learning apps designed for young learners 3-8 years old who are beginning to learn a foreign or second language.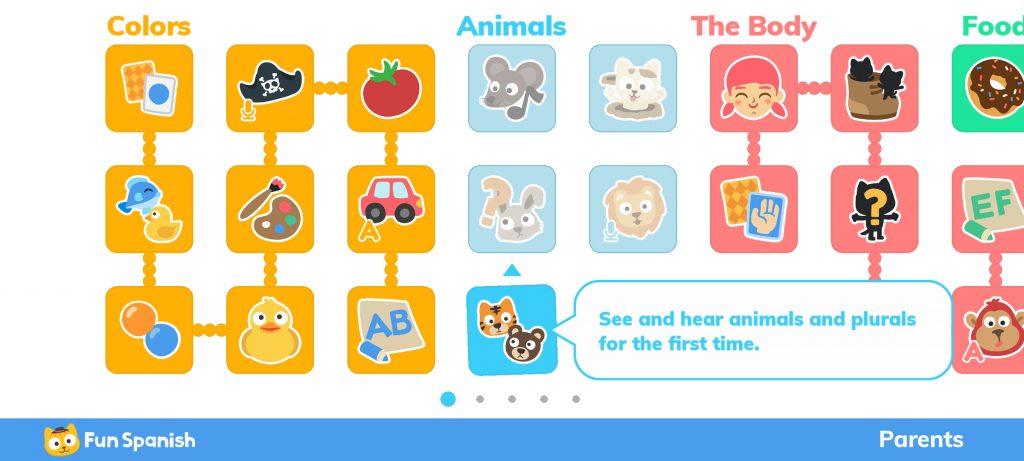 You can choose any of the categories, but you must start with the first block of that category.
The first block introduces some of the new vocabulary. The second block builds on it with a fun game that creates curiosity. Then it tests your memory, followed by exploration games, spelling and speaking games.
There isn't much grammar taught in the app, but some basic phrases and grammar are used and learned by immersion.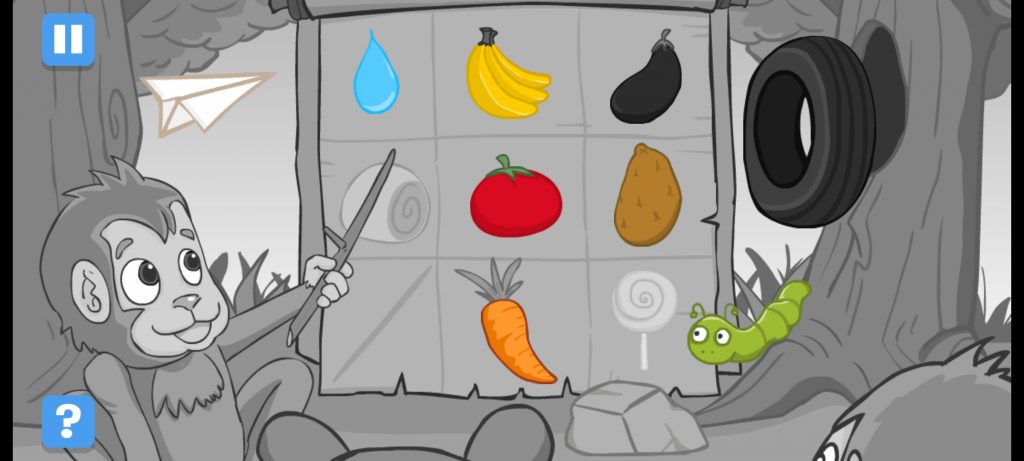 Our Experience with Studycat Fun Spanish
I used other similar learning games for my son, including Gus on the Go, Drops, and Endless Spanish. But my son asked to play Studycat more than any of these apps.
Studycat's gamified learning is similar in style to other games it has played. A mini-game is even designed like Fruit Ninja.
In fact, the first day we played together, he didn't want to stop. He played the game for over an hour!
His favorite was a game where you have to describe a monster to the Cat Detectives. You have to quickly memorize what the monster looks like, and then the cats ask questions like "¿Qué cor? What eyes? That mouth? " ("What color? What eyes? What mouth?") And you have to choose the correct body parts to describe the monster.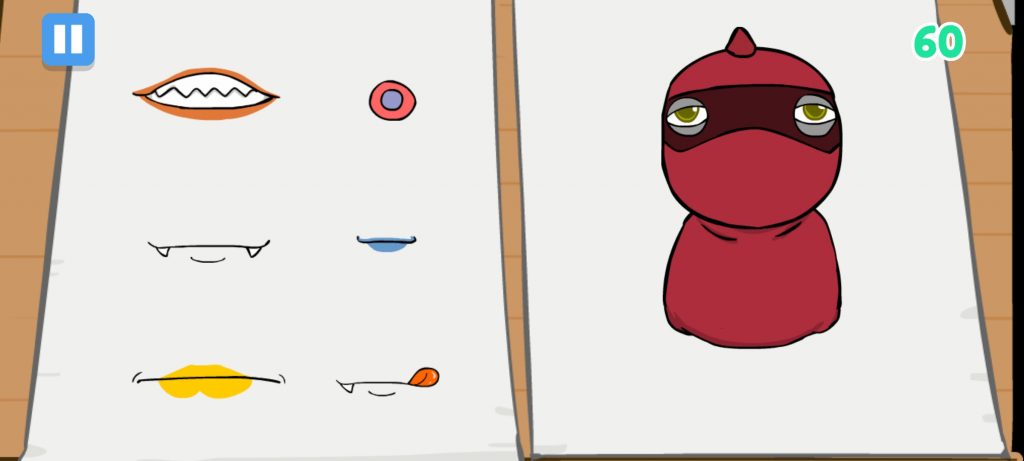 He was already starting to remember the meaning of certain words and could repeat them when I asked. What was great! Even though we had casually studied Spanish with him, he didn't want to talk much.
He struggled with some of the games though, where the instructions weren't very clear (especially for a kid who still can't read well). Sometimes even I was confused about what you should do.
But it was fun playing the game together, and he was even learning the Spanish alphabet.
Chinese Fun Studycat
I also tested Fun Chinese because I was curious how it would be different from Spanish. It is the only Asian language that Studycat currently offers.
I noticed that there were fewer categories and lessons for Fun Chinese. But I was pleasantly surprised at how well the game translates into Chinese.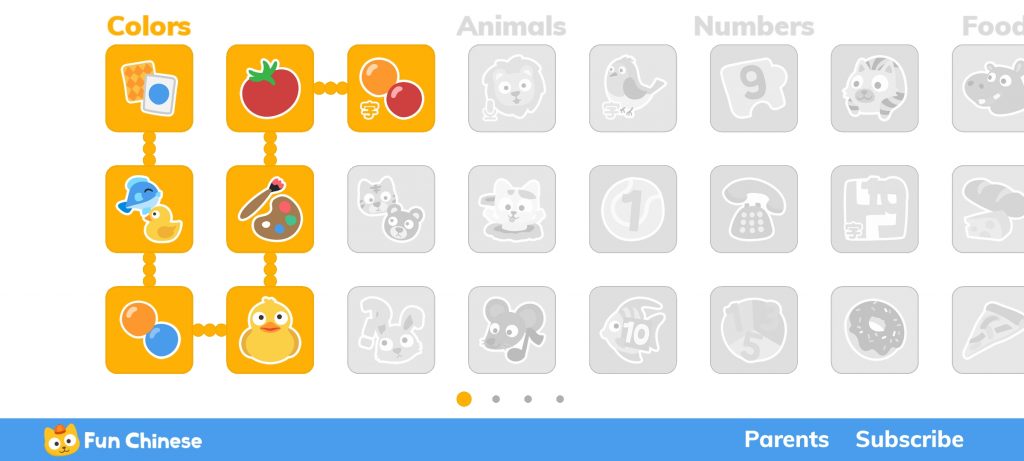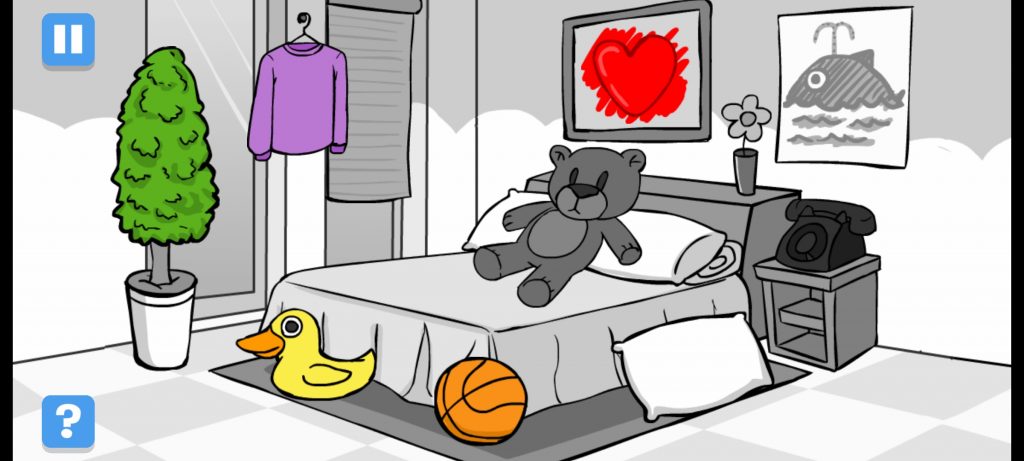 I know ZERO Chinese, but I was learning the colors quite easily in just a few minutes. There were several audio tracks showing how to pronounce Chinese characters as well. A mini-game teaches you Chinese characters with pinyin to help you read.
And surprisingly… It was fun as an adult too! One of the levels is like Tetris, and it was really addictive to play.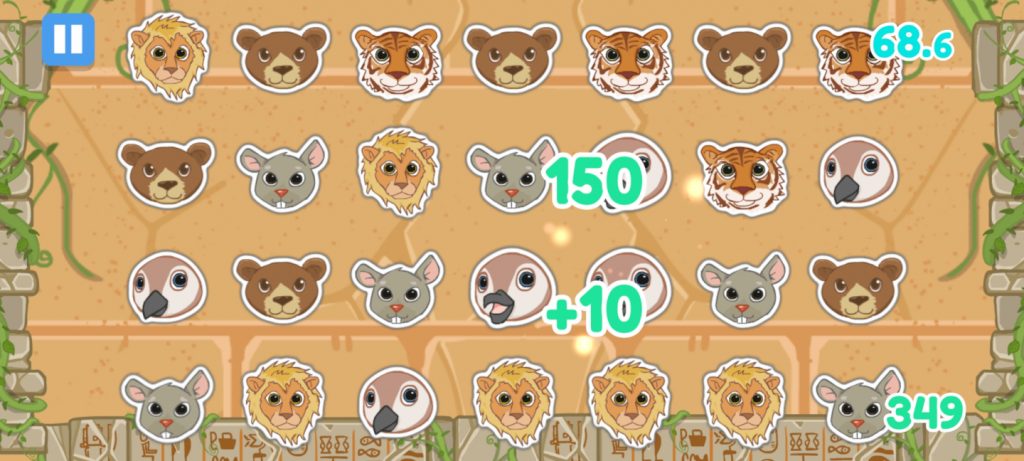 It's definitely focused on learning through immersive listening, though. So you won't learn a ton of Chinese characters.
Studycat Club Resources
Studycat Club contains extra resources and study materials for parents and teachers to help their children learn. It includes worksheets, music, helpful blog posts, and webinars.
Some of the webinars are pretty cool, especially for teachers. For example, there is a task-based language teaching webinar where you learn how to sequence activities for your class or child. There are several about learning through play.
If you are teaching your child English, Studycat Club will be very helpful. Most resources are for children developing their English skills.
But there are some useful spreadsheets for all the languages ​​they offer. Coloring pages, writing sheets and more.
It looks like this is a feature they keep expanding on. And I think it could use more expansion, but it's a nice addition to the app.
Studycat pros and cons
The app does a lot of things well, but there are definitely some areas for improvement as well. So here's what we (my son and I) thought the benefits were:
Pros:
The app features fun characters, games and songs that get kids excited to play. All of them are exclusive to Studycat.
There is a lot of repetition to help children learn new words without becoming monotonous.
You can replay the minigames over and over, and each time is a little different.
The mini-games are super fun and similar to the games kids already know. Your goal is to keep them hooked.
No ads or other distractions, and you can play offline. So don't worry about internet security while learning!
Focusing on learning through play-based listening skills and immersion is helpful. There are different voices (female and male) and inflections used that help make listening easier.
The app is easy to navigate, even for children alone.
It is a great study aid for parents and teachers to complement classroom or textbook study. Studycat is designed to complement language classes for children.
You have access to bonus features through Studycat Club.
Content and categories are topics that kids love and want to learn about.
Currently, the game teaches around 350 words, which is a great starting point for kids.
It's fun for adults too!
Cons:
Some games are difficult to understand in terms of what to do. Instructions are minimal and there are no narration instructions in either language. This can make it more difficult for younger children who can't read yet.
There is very little grammar taught. This is a supplemental vocabulary tool.
Kids can quickly unlock and play all levels. So while the games are a lot of fun, I'm not sure how long they'd like to keep playing (considering there are monthly and yearly packages).
There were some games that didn't make much sense. For example, a game makes the child repeat what he hears and the game records it. In the next round, the game reproduces what the child said and he must click on the correct answer. My son used to say something completely different to be funny, so by the second round, it was impossible to know what the correct answer was. Also, it sounds a little weird because if you're pronouncing it completely wrong, you're getting the wrong kind of feedback from the game.
There are fewer categories in the Fun Chinese app than in the Fun Spanish app, and Studycat Club is more geared towards English learners.
I don't know if it offers enough to differentiate it from other cheaper apps from a parent's point of view. (From a kid's point of view, it offers more fun games.)
Limited to just 5 language options: English, Chinese, Spanish, German and French.
Other reviewers also commented that some of the gameplay features are difficult or confusing, such as the ELT Planning. While Yeah Lifestyle also reviewed Studycat with their son and also found the app fun and engaging to play.
In my opinion, I think the cons can be easily fixed and are not decisive in any way. The most important thing for me was that my son really enjoyed learning Spanish. It was a big deal!