Snov.io Review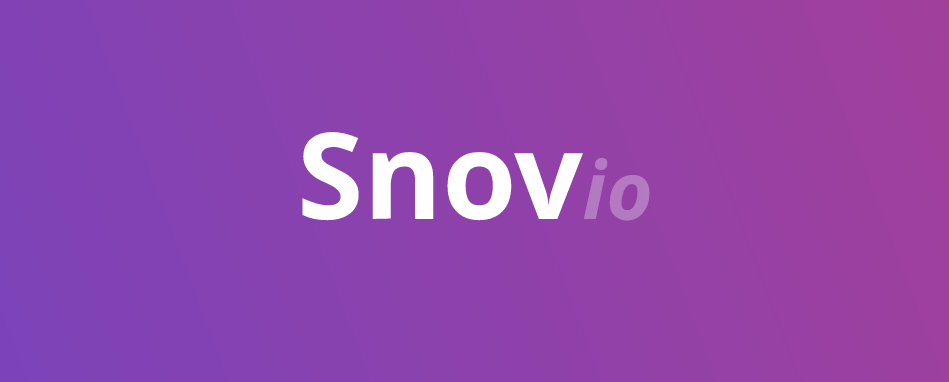 Snov.io is a tool that emerged in 2017.
It allows you to find emails and other details about the lead, whether prospecting through LinkedIn or through the company's website.
In addition, in the tool you can check if the emails you found are valid to avoid high bounce rates.
This is even the functionality that we consider most important and that we use the most here at OTB.
What is Snov.io used for?
Snov.io features can be divided into prospecting features and email validation. We will cite them below:
To search the emails registered to the lead's domain
Through a search on the website of the companies you want to prospect, it is possible to have access to email addresses, names and positions of people who are relevant within the organization.
To do this search, just have the Snov.io extension installed in Google Chrome .
To search for emails on LinkedIn
You can do an exploratory search on LinkedIn or use the Prospect Search Tools functionality to find the leads you want to find on the social network.
Here at OTB I rarely use this functionality because I consider that other tools, such as FindThatLead and Skrapp , help me better in this regard.
We will continue to release more full reviews weekly and will soon release one on FindThatLead and one on Skrapp.

In addition, on our blog we have a playbook about the Business Intelligence process and other tools that can be used.
To search companies by profile
Snov.io has its own database which can be found by accessing the company profiles functionality. Through it you do a search similar to that done on LinkedIn.
The objective here is to find companies by size, location, year of foundation and segments. By filtering this data, the tool finds the leads that are right for you.
To send emails for free
The tool allows you to send emails for free to a list of companies obtained through domain search.
I confess that I have never used this functionality, because I have Reev as my right hand for creating my cadence flows . I just know it exists!
To validate email addresses
This is the feature I use most of the tool. Through it I can upload a list of emails to check their validity.
Verified emails are classified as valid, invalid, and dubious emails, with flags in green, red, and yellow, respectively.
This functionality is very useful to reduce your bounce rate, a very important practice to ensure the reliability of your domain and stay in the leads inbox.
How much?
Snov.io is a gringa platform and, as such, its prices are all charged in dollars.
The service is divided into modalities ranging from 100 to 50,000 credits per month and the plans can be contracted on a monthly or annual basis.
In the case of annual contracting, the values of the plans receive discounts in relation to the values of the monthly plans.
Monthly plans range from free to $139 USD per month.
Your credits are spent each time you search for emails, either on the domain or on LinkedIn. For each query you spend one credit and 0.5 credit to load and check the validity of each email obtained.
One of the great advantages of the tool is that it offers a free plan that, as long as you respect your credit limit, has no time limit and is not a trial, it is in fact a free plan.
In it you have access to 100 credits per month, an average of 100 email queries via LinkedIn or 100 queries via domain, or 200 email address validations. After the validation routine you can download a CSV file with the results.
What do we love?
Free plan with a reasonable amount of credit that allows access to most of the tool's features;
Own base with a good number of Brazilian companies;
Good cost-benefit;
Reliability of emails found via domain search;
Online support was attentive when I needed it and was able to solve my problem quickly.
What can improve?
In the tests we did using leads that Snov.io classified as dubious, regarding the validity of the emails, we noticed that we had a high bounce rate.
Therefore, it would be interesting for the platform to specify the reasons for this classification so that the user can decide whether or not it is worth using these emails.
Competing platforms like Proofy.io already offer something similar.
final review
Snov.io is a versatile solution that has a very interesting cost-benefit, considering everything it offers.
My experience using this tool in the OTB\Reev business intelligence team has been very satisfactory and, in conjunction with other tools, it allows us to obtain good leads and keep our bounce rates below 4%.
I recommend that you create a free account and try out all the features that this tool offers.
If you have any questions about the tool or want tips on your business intelligence process, comment below. I will be happy to answer.