Funnelish Review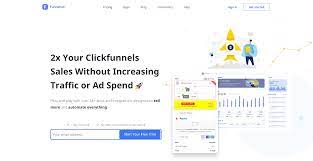 Create High-Converting eCommerce Sales Funnels
Funnelish is the only platform you need to build and scale your eCommerce funnels
Funnelish makes it easy for you to be your own designer. You can Use the drag and drop editor to customize your funnel pages.
Create your Landing pages, Checkout, Upsells, Downsells, Confirmation pages, and more
What is a funnel?
Funnelish allows you to quickly update your site and increase your conversion rate using many tools and plugins. The Funnelish app also offers built-in tools to increase conversion rates and improve process models.
Fast page load speed for extra sales
Over 50% of visitors leave a site if it takes more than 3 seconds to load… You'll never lose a customer to page speed again.
Your page will always load in less than 1s
Optimized for mobile
Rank higher on Google
Save time fulfilling orders – put it on auto-pilot
Automatically send new orders to Shopify, ShipStation, Google Sheets and more;
To update inventory, fulfill orders, and many advanced features to get rid of the headaches that usually come with fulfilling eCommerce orders.
Shopify advanced variants matching
Automatic sync and order bundling
Google Sheets field mapping
Zapier integration
Funnelish integrates with the following apps and software:
Send abandoned cart emails to convert leads into buyers
Make sales on the 70% of users who abandon their cart with personalized emails from within Funnelish or using your autoresponder of choice.
Drag-n-drop email editor
Email sequences
Klaviyo
ActiveCampaign
Mailchimp and more
Google sheets
Shopify
Orderlytics
Activecampaign
Hyros
Mailchimp & many more.
Fancify

: This app allows you to create better-looking order forms and product variants.

Fancy Credit Credit

: This app allows a smooth checkout experience to your customers, by decreasing the number of payment fields they have to fill in, and adds a great visual experience to your order forms.

Funnelish Pay

: A simpler way to connect payment gateways for your funnels.

Paypal Plugin

: Allow customers to purchase via Paypal.

Proofy

: A social proof app that creates trust when a potential customer visits your site.
And there is so much more apps that you can check out and play around with as well!
Funnelish Pricing
Funnelish costs $29 per month, and the $288 annual plan saves you money.
Both plans offer a 7-day free trial to test apps and devices. If you're hesitant about the price, a 7-day free trial would be your best bet to at least try the app.
Funnelish App Free Trial
The Funnelish App provides a 7-day free trial with no credit card required.
ClickFunnels Paypal Integration Using Funnelish
Learn how to integrate Paypal with ClickFunnels using Funnelish within few seconds.
Add PayPal Email to Funnelish
Turn App on Account-Wide
Turn App on in Funnel
Funnelish Review Conclusion
If you're looking to create high converting funnels without all the headache, then Funnelish should be in your tool kit for ClickFunnels.
Be sure to grab the 7-day free trial and mess around with the Funnelish apps!